Milkshakes are a liquid connection to permanent childhood. Whether you're 6 or 60, they're the most fun thing to drink, with or without a meal!
On a hot day, the kids of our neighbourhood used to run down to the local milk bar to get our fix. If we were eating out with the family, a milkshake was the one thing I had ready to order before the menus even arrived. In fact, 9 out of 10 times, the milkshake would be downed long before anything surfaced from the restaurant kitchen. Sometimes, if I could manage it and get away with it, there'd be a second milkshake for dessert as well!
Milkshakes are all about flavour and consistency
When it came to flavours, I went through phases. I think everyone starts their milkshake journey with chocolate. It's the classic choice.
But I quickly moved onto vanilla. The connoisseur's choice. I wanted as much of the true ice cream flavour as possible in every sip, without distractions.
But then! I realised one day that strawberry milkshakes were the perfect blend of traditional vanilla and something a bit sweeter, a bit more fragrant, a bit candy-like. The ultimate choice.
Once strawberry became my firm favourite, the only spur-of-the-moment decision to be made was consistency. A good milkshake is never thin. You shouldn't be able to gulp it down like a glass of milk. Your straw should be able to stand up straight in the glass and never fall to the side on its own. That's a proper milkshake.
In the mood for a milkshake
But sometimes, on occasions where you want the joy to last a little bit longer than your usual milkshake session, a double thick shake is just the thing. Not too thick that you need to eat it with a spoon, but thick enough that you have to declog the straw at least 10 times before you're done.
The good thing about homemade milkshakes is that they're incredibly easy to make, at just the right consistency to suit your milkshake mood of the day.
All you need is a milkshake mixer or blender, some ice cream, some milk and the flavour of your choice. So many new flavours have been created since the early days of the milkshake and they all have their place, but there's a good reason that the original 3 flavours are still the most popular.
A good milkshake recipe like this one will be a firm family favourite and most kitchens should already have the ingredients in your fridge or freezer. If not, that's what online delivery is for. Or midnight runs to the local service station. I've been known to do both on more than one occasion. And so should you. For a milkshake like this, it's worth it!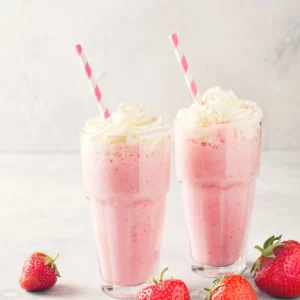 Strawberry Milkshake Recipe
The good thing about making milkshakes is that they're not hard to make, all you really need is a blender some ice cream, some milk and the flavour of your choice.
Ingredients
250

ml

strawberries

you can also use frozen slices

500

ml

good quality vanilla ice cream

125

ml

milk

125

ml

fresh cream

sugar sprinkles or pearls for decorating
Instructions
Place the ice cream strawberries and milk into a blender

Blend together until well combined and the strawberries thoroughly dispersed through the mix

Pour the milkshake into two glasses

Whip the cream and spoon over the milkshake

Decorate with sugar sprinkles or pearls
Notes
Just add more ice cream to help thicken the shake or a little more milk if you prefer your shake thinner.
Our Pick
Hamilton Beach Retro Milkshake Maker
Who needs a malt shop, milk bar or ice cream parlour when you've got your own 2-speed retro chrome milkshake mixer?
The extra large stainless steel cup gives you plenty of room for generous scoops of ice cream and some extra ice for good measure.
Mix and blend to the perfect texture and make every day a milkshake day!